Le soir de la veille de mon annif et d'un petit congé, sortant fraichement de Blow hairdresser , le cheveux « platine- baby » relevé par Candy Dee d'une mixture made in little poney town: arc-en-ciel, bouclée et taillée dans la kératine par Hugo leblond, je trainassais sur FB  juste après avoir ingurgité une dose massive de « Fringe », juste avant MA série préférée du moment « real Humans » sur Arte quand je visualisais d'un œil- presque démaquillé- CA : une super bonne nouvelle! Comme un cadeau…

Monsieur mademoiselle is Back ! Oh yes. Qu'il m'avait manqué ce magazine! Écrit entre autre par Stèv Romani Soccoro, son fondateur ovni de la presse mode, que j'adore . Encore une rencontre du 3eme type . Mais aussi et depuis: Jule Faure, Cécile David, Emmanuel Pierre, Aubry Fargier, Aurore Kaeppelin, Myrtille Moniot, Renaud Duc, Clara De Gobert, Boris Mahé, Clhoé Ribero et Romain Brau .
Après une petite pause et un lifting.. They are back ..avec des projets en brochettes chic dont un e-shop et toujours des post vrais et personnels. #yeah! Avec des sujets qui nous concernent . C'est #nohazard aussi que j'y retrouve le même statement posté ici sur ce blog quelque jours plus tôt ».. Don't be into trends, don't make Fashion own you , but decide what you are  » de notre fashion icône Gianni( Versace).
Extrait : sur un post qui parle du Film « Le monde selon H&M  » de Marie Maurice ( sur Canal + demain !) MM: … Honte & Misère, Horreur & Merde ou le petit nouveau cité dans le reportage: Haine et Mensonge, tout est dit dans la ré-interprétation de ces lettres rouge sang qui composent l'emblème reconnaissable par tous d'un symbole de ce que notre société fait de pire aujourd'hui dans la mode.
Mademoiselle Maurice, nous ne pouvons que vous dire « MERCI! » d'avance car depuis les temps où nous avions envie de foutre un coup de boule à cet enculé de Karl Johan Persson, vous êtes une bénédiction car voilà chose faite!
Notre respect pour l'éternité,
La rédaction.
Un peu plus tard le 30 mai je recevais un lien TUMBLR un nouveau mag ? Du Belge Leelbe que vous allez vous empressez d'enregistrer de suite! Le pitch : Entre Le Gorafi et Vogue Italia, votre dose quotidienne de mode satirique. Suivez les aventures de nos femmes à barbes dans leur combat quotidien contre l'anonymat.
Tout cadeau de presse sera accepté. Tous les articles relatés ici sont faux (jusqu'à preuve du contraire) et rédigés dans un but humoristique. L'utilisation de noms de personnalités ou d'entreprises est ici à but purement satirique. All items here are recounted fake (until proven otherwise) and written in a humorous purpose. The use of names of persons or companies is purely satirical here. Les articles sont tous copyright © LEEL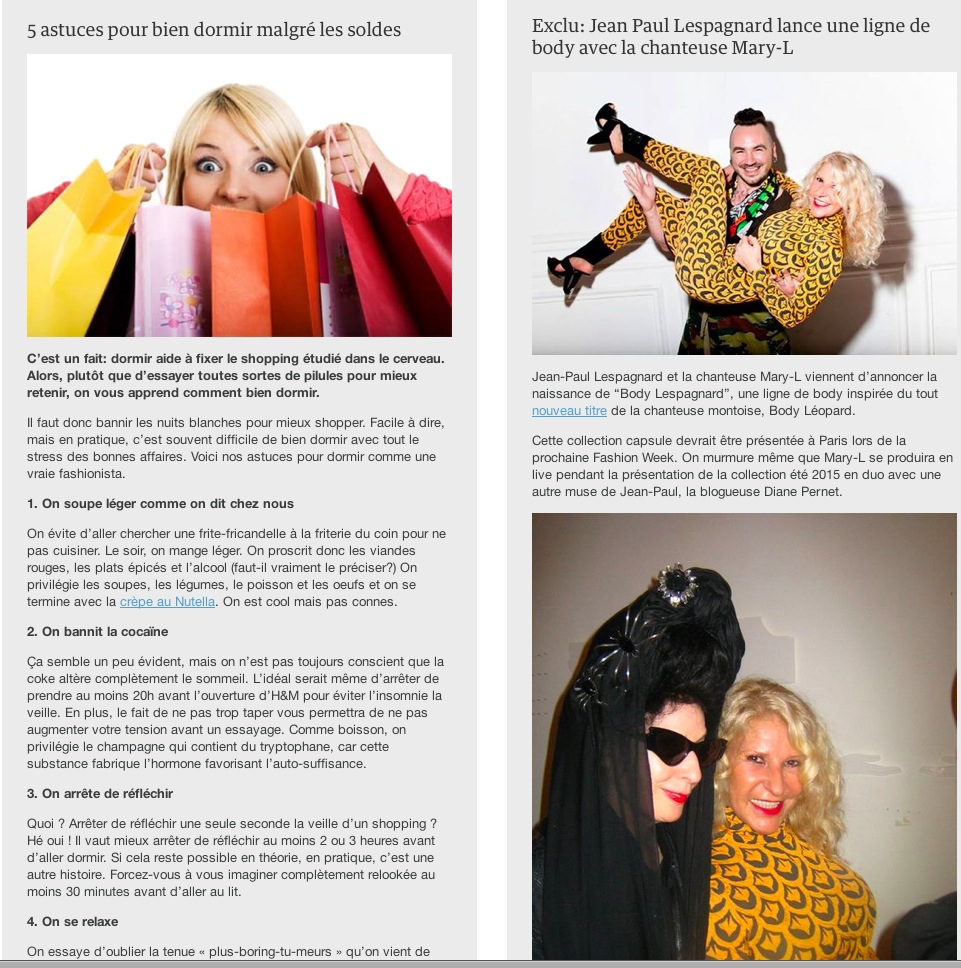 Lelle , ça décoiffe et c'est une satire bien tapé des magazine féminins.Les post de Molly Pivon, Lilly Stérique ou encore Fashion Tim .. vous font hurler de rire si vous avez travailler de prés ou de loin dans le milieu de la presse mode…
Extrait : LELL: » 5 astuces pour bien dormir malgré les soldes
5. On prépare tout pour le lendemain
Pour être certaine de dormir sur vos deux oreilles, sans vous réveiller en sursaut en plein milieu de la nuit, préparez déjà tout pour le lendemain. Préparez donc votre sac avec votre carte d'identité, une montre, un bic (qui fonctionne), du déo, un sac pour vomir, une batterie de rechange pour Iphone, … Préparez aussi votre tenue et repérez la localisation de votre lieu de shopping. Mettez votre réveil un peu plus tôt pour avoir bien le temps de contrer les imprévus et prévoyez également une marge dans les transports.
Voilà, vous pouvez définitivement shopper sereinement.
Merci qui ?.. « 

Fresh & fun
Speak to you soon!
Belinda Cordier